First Year
Image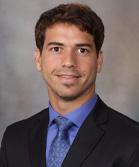 Alvaro J. Ramos-Rodriguez, MD
Residency
Dermatology Residency, University of Puerto Rico School of Medicine, San Juan, PR
2019-2022
Icahn School of Medicine at Mount Sinai West, New York, NY
Internal Medicine Residency
2016-2019
Post-Doctoral
Dermatology Post-Doctoral Research, Mayo Clinic, Rochester, MN
2015-2016
Medical school
Autonomous University of Guadalajara School of Medicine, Jalisco, Mexico
2009-2015
Publications
Oral platform presentation at: The American Society of Dermatopathology (ASDP) 59th annual meeting at Chicago, IL
"A Novel Method to Assess Copy Number Variation in Melanocytic Neoplasms: Droplet Digital PCR for Precise Quantitation of MYC and MYB Genes," October 2022
Carrasquillo OY, Cancel-Artau KJ, Ramos-Rodriguez AJ, Cruzval-O'Reilly E, Merritt BG, Mohs micrographic surgery versus wide local excision in the treatment of merkel cell carcinoma: A systematic review. Dermatol surg. Feb 2022; 48(2):176-180. PMID: 34889215.
Ramos-Rodriguez AJ, Canel-Artau KJ, Lemor A, et al. The in-hospital burden of dermatomyositis on patients with acute myocardial infarction: A nationwide cross-sectional analysis from 2004-2015. J AM Acad Dermatol. 2021;85(4):1006-1008. PMID: 33022307.
Textbook: Dermatology for the USMLE, First Edition
Publisher: High Yield Press Books
Author: Alvaro Ramos-Rodriguez, MD
Editors-in-Chief: Alina G. Bridges DO, Benjamin J. Barrick DO, and Mark D. P. Davis MD
Publication Date: August 2016
Honors
October 2020
Dermatology Rising Start Competition Winner
The in-hospital burden of dermatomyositis on patients with acute myocardial infarction: A nationwide cross-sectional analysis from 2004-2015.
2020 Fall Clinical Dermatology Conference (Virtual)
October 2020
Best Poster Award
A Rapidly Progressive Pemphigus Vulgaris in a Black Puerto Rican Patient: Early Recognition of Disease in Dark Skin Patient Saves Lives
American College of Physician (ACP) Conference Meeting, San Juan, PR, US.
Why I chose Dartmouth Hitchcock Medical Center
While interviewing for Dermatopathology fellowship at Dartmouth, this program really stood out quickly. The state-of-the-art facilities, top notch teaching, supporting staff and great location were paramount in my decision. The location is five-stars for people who love outdoor activities such as hiking and skiing/snowboarding, with some of the best northeast coast skiing being 45 minutes away in Vermont. There are unlimited beautiful hiking trails and if you like a city vibe, you can always drive 2 hours to Boston or Canada on the weekends/vacations. The culture at Dartmouth is incredible and very inclusive, plus you are training in an Ivy League institution. For me, Dartmouth was the full package and I am honored to be training here with the best!
About me
Dr. Ramos was born in Puerto Rico, completed his medical training at the Autonomous University of Guadalajara School of Medicine in Mexico and was recognized with the Student of the Year award. He has dedicated a major part of his medical career to teaching and helping students prepare for the USMLE, and is the author of the book "Dermatology for the USMLE." He has also dedicated to helping and guiding medical students match to residency programs in the United States. He completed internal medicine residency at the Icahn School of Medicine at Mount Sinai West in New York City and dermatology residency at the University of Puerto Rico School of Medicine. Dr. Ramos enjoys snowboarding and surfing during his free time and has played professional paintball.