PGY-2
Image

Kriti Mittal Agrawal, MD
Medical School: B.P Koirala Institute of Health & Sciences, Nepal
Hobbies: Playing basketball, painting, and exercising, mixed martial arts, riding and grooming horses, seeing the world, indulging my sweet tooth, binge-watching F.R.I.E.N.D.S on my purple couch with my tribe
Image

Ming Cai, MD
Medical School: Perelman School of Medicine at the University of Pennsylvania
Hobbies: Sewing, including pattern drafting, design, and garment construction, Watercolor painting, landscape and still life Playing guitar and recording music, Spending time outdoors with our two dogs , Dog rescue and shelter organizations
Image

Jonathan Hanna, MD
Medical School: St. George's University
Hobbies: Scuba diving, music composition, piano, cooking, fishing
Image
Alice Jo, MD
Medical School: Cleveland Clinic Lerner College of Medicine of Case Western Reserve University
Hobbies: Painting, running, yoga, going to music gigs, running along any body of water
Image

Tawni Johnston, MD
Medical School: University of Utah School of Medicine
Hobbies: Painting, hiking, skiing, and scuba diving
Image

Laura Newton, MD
Medical School: University of Nebraska College of Medicine
Hobbies: Gardening, hiking, camping, singing, and embroidery
PGY-3
Image

Matthew Anton, MD
Medical School: Rosalind Franklin University of Medicine and Science
Hobbies: Hiking, eating/drinking with friends, yard work
Image

Robin Cotter, MD
Medical School: Tufts University School of Medicine
Hobbies: Backpacking, rowing, amateur bartending, travel, cooking/eating, hanging out with dogs
Image

Mark Eid, MD
Medical School: University of Louisville School of Medicine
Hobbies: Spending time with my wife and friends, hiking with my german shepherd, skiing, road biking, enjoying the tasty microbreweries the Upper Valley has to offer
Image

Mahmoud Shehada, MD
Medical School: Royal College of Surgeons in Ireland-Bahrain
Hobbies: Traveling, horse riding, hiking, spending time with family
PGY-4
Image

Charlie Burney, MD
Medical School: University of Toledo College of Medicine
Hobbies: Cooking and home maintenance
Image

Jenaya Goldwag, MD
Medical School: University of Connecticut School of Medicine
Hobbies: Painting, hiking, crafting, hanging out with friends and family
Image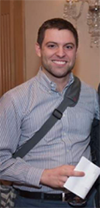 Phillip Gray, MD
Medical School: Oakland University William Beaumont School of Medicine
Hobbies: Playing with my kids, attempts at woodworking, Soccer
Image

Casey Lamb, MD
Medical School: Jefferson Medical College of Thomas Jefferson University
Hobbies: Spending time with my Wife and Daughter, Hiking, reading, playing guitar, fly fishing
PGY-5
Image

Robert Allen, MD
Chief Resident
Medical School: Sidney Kimmel Medical College at Thomas Jefferson
Hobbies: Floating in rivers, writing, bar hopping, ocean paddling, mountain strolling, singing 90's jams with the windows down, losing in badminton
Image

Justin Cirone, MD
Chief Resident
Medical School: Rutgers, Robert Wood Johnson Medical School
Hobbies: Indoor gardening, home improvement, trying different microbrews
Image

Eleah Porter, MD
Chief Resident
Medical School: American University of the Caribbean
Hobbies: Pretending to be an HGTV home designer, discovering the world with my little human, skiing
Image

Spencer Trooboff, MD
Chief Resident
Medical School: Ohio State University School of Medicine
Hobbies: Enjoying the White Mountains of NH (skiing, hiking, and swim hole finding), scuba diving, mediocre piano player, table sports aficionado
Interns
Image

Nataly Bingham, MD
Medical School: Drexel University College of Medicine
Hobbies: In-line skating, creating home-made hair products, making hand-made cat toys
Image

Emery Boudreau, MD
Medical School: University of Utah School of Medicine
Hobbies: Drawing, getting outside (snowboarding, running, hiking), trying new local beers, spending time with family and friends
Image

Brittany Dacier, MD
Medical School: University of Massachusetts Medical School
Hobbies: Skiing, exercising, hiking, playing with my pup Finn, spending time with my husband and family
Image

Sylvia Guerra, MD
Medical School: Geisel School of Medicine at Dartmouth
Hobbies: Chickenkeeping, fiber arts, XC skiing, baking elaborate French desserts, indoor gardening, exploring New England, spending time with my partner and our two cats
Image

Lauren Krafky, MD
Medical School: Wake Forest School of Medicine of Wake Forest Baptist Medical Center
Hobbies: Hiking, water skiing, ceramics, yoga, soccer, playing with my dog Kona
Image

Nelson Merchan, MD
Medical School: Universidad de Los Andes (Merida-Venezuela)
Hobbies: Gym, hiking, skiing, European History, visit new beaches and lakes in the summer
Image

Moozhan Nikpanah, MD
Medical School: Iran University of Medical Sciences (IUMS) School of Medicine
Hobbies: Swimming, indoor cycling, nature photography, playing piano
Image

Ruth Obiarinze, MD
Medical School: The University of Texas
Hobbies: Spending time with family and friends, reading, watching movies, scrapbooking/pictures, trying new things, travel
Image
Thomas Schneider (TJ), MD
Medical School: Frank H. Netter MD School of Medicine at Quinnipiac University
Hobbies: Ice hockey, weightlifting, running, hiking, standup comedy, walking my dog Ted
Image

Rachel Sier, DO
Medical School: Western University of Health Sciences - College of Osteopathic Medicine of the Pacific
Hobbies: Outdoor activities, hiking, biking, skiing, and rafting. I also enjoy running, baking, and reading.
Research
Image

Laura Baumann, MD
Medical School: University of Connecticut
Hobbies: Playing soccer, hiking, gardening, baking
Image

Matthew Carroll, MD
Medical School: University of Massachusetts Medical School
Hobbies: Hiking, Brazilian jiu-jitsu, visiting VT breweries
Image
Peter Congelosi, MD
Medical School: State University of New York Upstate Medical School
Hobbies: Trail running, anything Baseball, enjoying fermented beverages of New England with friends
Image

Xavier Fowler, MD
Medical School: University of Rochester School of Medicine
Hobbies: Cooking, exercise gardening, hiking
Image

Lauren Gamble, MD
Medical School: Michigan State University College of Human Medicine
Hobbies: Outdoor sports and activities, travel
Image

Samuel Max Manstein, MD
Medical School: Lewis Katz School of Medicine at Temple University
Hobbies: Weight lifting, wrestling, jiu- jitsu, skiing, fishing, finding dogs and rubbing their bellies
Image

Robert Shaw, MD
Medical School: Albany Medical College
Hobbies: Golfing, hiking, generally being outdoors!