PGY-1
Image

Remington Lim, MD
Hey, I'm Remy. I grew up in Queens/Syosset, NY and came to the way of Dartmouth Hitchcock Medical Center after completing Boston University's BA/MD program. It's been cool to leave the urban scene to enjoy the Upper Valley, and everyone here is super friendly and welcoming! In my free time, I enjoy watching/playing basketball, listening to music, trying new foods, and enjoying the outdoors.
Image

Nicholas Moll, MD
Hey! I'm Nick and I was born and raised in Houston, Texas. I joined the Air Force after high school and attended the United States Air Force Academy in Colorado Springs, CO for my undergraduate and officer training. I then returned to Houston and received my medical degree from the University of Texas at Houston. I completed a general surgery preliminary year at the University of Michigan before matching into Urology at Dartmouth. The tight-knit group of residents, faculty dedicated to teaching, and the family-friendly program all make me excited to get to train at Dartmouth Hitchcock Medical Center. And as someone who hasn't spent much time in New England before; my wife, daughter, and I have all loved the great community and outdoor activities that the Upper Valley has to offer.
PGY-2
Image

Richard Bellemare, MD
I grew up in Central New Jersey, then headed to the University of Maryland to study neurobiology and physiology. I attended medical school at Albany Medical College where I developed an interest in snowboarding and have become a regular at Killington Ski Resort. I am excited to be training at DHMC because of the sincere investment faculty and residents make in our urologic training, and the camaraderie that exists both within our department and between other departments in the hospital. In my free time I enjoy hiking, biking, trying new recipes, snowboarding, watching the Yankees, and exploring the local restaurant and brewery scene with co-residents.
Image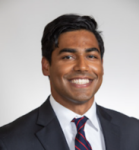 Vikram Lyall, MD
Hey there! I'm Vik. I was born and raised in Connecticut. After going to undergrad at Hofstra University in Long Island, NY I received my medical degree from The University of Connecticut. As a native New Englander, I was very happy to match at Dartmouth and explore what the Upper Valley has to offer. I enjoy spending my free time outdoors, whether that is playing golf, hiking, or camping. My other interests include New Haven Pizza (I am a Sally's guy), Yankees baseball, petting golden retrievers, and trying out new breweries.
PGY-3
Image

Britney Atwater, MD
I grew up in New Hampshire and Massachusetts. I studied biomedical engineering at WPI then attended UMass Medical School. You can find me hanging out with Diesel, my dog, pretty much all the time. My other interests are playing soccer, snowboarding, watching sports, petting all the dogs, Family Guy, and managing Diesel's Instagram.
Image

Kaylee Luck, MD
I was born and raised in southeastern Wisconsin. Growing up on the lake, outdoor activities in every season has always been my favorite pastime. I attended undergrad at The University of Milwaukee studying biology. After college I worked in the emergency department as an ED technician while I saved money to buy my first house in Milwaukee WI. After obtaining a Master's in Physiology I attended medical school at The Medical College of Wisconsin. Each year of med school I would devise a big house project for my husband Wes and me to DIY. Now making our way to Lebanon, NH with our two dogs; 11 year old Weimaraner, Jake and 10 month old German shorthair pointer, Arlo. We are looking forward to hiking and exploring The Upper Valley.
PGY-4
Image

Christopher Robertson, MD
I was born and raised in the suburbs of Boston; a small town called Westwood. I received my undergraduate degree in biochemistry from Syracuse University. While there, I worked in maintenance and the trades. I also developed a passion for fine cooking and espresso while at Syracuse. I took a year off to pursue my interests in bench research, and work as a janitor. I then attended Tufts University School of Medicine, where I developed an additional passion for Urology.
Image

Shuo-Chieh (Jeff) Wu, MD
I came to DHMC from University of Miami School of Medicine. As much as I enjoyed the Florida sunshine and beach, my wife and I decided to move back to the Northeast, where we completed our undergraduate education and worked professionally prior to medical school. In my free time, I enjoy hiking, winter sports, and cat training with my wife.
PGY-5
Image
Eileen Brandes, MD
I was born and raised in Falmouth, Maine (just north of Portland). My co-resident, Chris, and I were born 2 days apart in the same hospital. I did my undergrad at the University of Michigan where I studied French and Biology as well as played varsity field hockey (Go Blue!). Between college and medical school, I moved to Reunion Island (French department off the coast of Madagascar) to teach English, learn French and Creole and trail run my way around the beautiful cirques and volcanos. I subsequently injured myself running the Boston Marathon, which sparked my love for triathlons. I completed the Boulder Ironman a few days before starting residency. I now live in Enfield, NH with my husband, Michael, who is an engineer at Hypertherm, and our Wirehaired Pointing Griffon puppy named Otis. In our free time, we love exploring the beautiful mountains and gravel roads by bike and foot.
Image

Christopher Ortengren, MD
I was born in Portland Maine. Little did I know that my co resident, Eileen Brandes, was born in the same hospital two days prior (always showing me up!). I spent my childhood on the ocean and then headed to the mountains of Colorado to study wildlife biology. I played around for a bit in Wyoming after college and then moved to Boston to start school at Tufts. I met my wife Allie in medical school. We both had spent time in the Upper Valley and were ecstatic to match at Dartmouth. I currently live in a never ending project of an old farm house (built in 1789) with 5 acres of corn, a brook and endless open space for my bird dog Wilbur. My free weekends are spent hiking, mountain biking, skiing, fly fishing, hunting or grilling with my co-residents. We have a great group of faculty and residents at Dartmouth Urology that make for a fun and productive educational experience. I truly love Urology and feel that I will be a competent and well-rounded Urologic Surgeon at the completion of my training.