PGY-1
Image

Stephen Harrington, MD
Twitter account: N/A
Hometown: Cleveland, Ohio
Undergraduate: Case Western Reserve University
Medical school: Penn State College of Medicine
Hobbies: Weightlifting, hiking, reading, fishing, and watching any and all movies.
Why Dartmouth? I chose Dartmouth Hitchcock Medical Center because it offered me an exceptional and supportive institution to complete my training. The residents and attending's were all so friendly and inviting that I felt assured I would be among a wonderful group of people. Moreover, it is located in a beautiful and quiet location that gives me great opportunities for outdoor activities to keep me happy in my limited free time.
Specialty interest: Undecided. I enjoy everything in urology and I'm not sure where I will end up!
Favorite OR case: Open cystectomy and penile prosthesis implantation are two of my favorite cases.
Favorite OR music: I love a bit of everything. R&B/soul, hip-hop/rap, 60 to 90s rock, and dance are some of my favorites.
Image

Ambrose (Amos) Orr, MD
Twitter account: N/A
Hometown: New Haven, Connecticut
Undergraduate: University of Vermont
Medical school: University of Vermont
Hobbies: Guitar, tennis, soccer, hiking, biking, skiing, most outdoor recreation, video games, playing with my cats
Why Dartmouth? I love the New England communities and atmosphere, wanted a smaller-cohesive program with strong emphasis on surgical training. Excellent outdoor recreation.
Specialty interest: Undecided, maybe MIS
Favorite OR case: Robotic partial nephrectomy
Favorite OR music: Rock/metal
PGY-2
Image

Remington Lim, MD
Twitter account: N/A
Hometown: Queens, New York
Undergrad: Boston University
Medical School: Boston University
Hobbies: Trying new foods, music, basketball
Why Dartmouth? Smaller program with approachable faculty/change of pace
Specialty interest: Currently unknown
Favorite OR case: Stents
Favorite OR music: Light EDM/R&B
Image

Nicholas Moll, MD
Twitter account: @nmoll595
Hometown: Houston, Texas
Undergraduate: United States Air Force Academy
Medical school: University of Texas at Houston
Hobbies: Anything outside with our daughter and Irish Setter puppy, farmers markets on the weekends, DIY projects around the house, hunting/shooting range
Why Dartmouth? I wanted a smaller, mentorship-based program to get to train at while still being at a tertiary care center with great subspecialty exposure. We also wanted a quieter town with great access to the outdoors where we could raise our daughter.
Specialty interest: Undecided
Favorite OR case: Helping with urinary diversion during cystectomy
Favorite OR music: 70s Rock
PGY-3
Image

Richard Bellemare, MD
Twitter account: N/A
Hometown: Marlboro, New Jersey
Undergraduate: University of Maryland
Medical school: Albany Medical College
Hobbies: Snowboarding, weight lifting, hiking, stand up paddle boarding, checking out local restaurants and breweries, weekend trips, watching the Yankees/Cowboys, indoor gardening
Why Dartmouth? Very collegial work atmosphere amongst residents, attending's, and other departments. Great exposure to research and operative experiences early on in residency with very personalized graded autonomy based on skill set. A beautiful place to do residency, removed from many of the stressors associated with living in larger cities, but easy to visit places like Boston and Montreal.
Specialty interest: General Urology / Reconstructive Urology
Favorite OR case: Anything with an open abdomen
Favorite OR music: Hip Hop BBQ
Image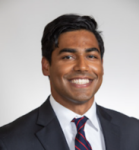 Vikram Lyall, MD
Twitter account: N/A
Hometown: Cheshire, Connecticut
Undergraduate: Hofstra University
Medical School: University of Connecticut
Hobbies: Golf, weightlifting, running, paddle boarding, eating pizza, petting golden retrievers
Why Dartmouth? Dartmouth offers a diverse operative experience with incredible mentorship and autonomy. The upper valley is a great place to train with easy access to enjoy the outdoors during all four seasons.
Specialty interest: Endourology, general urology
Favorite OR case: Semirigid ureteroscopy
Favorite OR music: Big bootie mix
PGY-4
Image

Britney Atwater, MD
Twitter account: Britney_Atwater
Hometown: Worcester, Massachusetts
Undergraduate: Worcester Polytechnic Institute
Medical school: UMass Med
Hobbies: Soccer, snowboarding, head of the party planning committee, social media manager for my puppy (@diesel_the_newfie)
Why Dartmouth? Good exposure to all of the subspecialties, friendly and supportive people, beautiful area
Specialty interest: Scrotology/BPH/Sex Med
Favorite OR case: Hydrocelectomy
Favorite OR music: Big Booty playlists
Image

Kaylee Luck, MD
Twitter account: N/A
Hometown: Oconomowoc, Wisconsin
Undergraduate: UW-Milwaukee
Medical school: Medical College of Wisconsin
Hobbies: Hiking, DIY home renovation, home design, anything with my daughter Leona (2 years old)
Why Dartmouth? Unmatched mentors and clinical experience, set in the most beautiful area of the country
Specialty interest: Robotics, oncology
Favorite OR case: Open cystectomy with ileal conduit, but scrotal cases are also delightful
Favorite OR music: 90s hip-hop, Halsey, Drake
PGY-5
Image

Christopher Robertson, MD
Twitter account: N/A
Hometown: Westwood, Massachusetts
Undergraduate: Syracuse
Medical school: Tufts
Hobbies: Making maple syrup
Why Dartmouth? The culture
Specialty interest: N/A
Favorite OR case: Variety
Favorite OR music: Anything but country
Image

Shuo-Chieh (Jeff) Wu, MD
Twitter account: JWu_2019
Hometown: Taipei
Undergraduate: Boston University
Medical school: University of Miami
Hobbies: Tennis, games, hanging out with family
Why Dartmouth? Collegial environment, great urological exposure
Specialty interest: Minimally invasive surgery
Favorite OR case: TURBT
Favorite OR music: Chuck Berry